In a recent interview with Udayan Mukherjee, the big bull Rakesh Jhunjhunwala made an interesting bold statement – "I think nobody has read the Electricity (Amendment) Bill. Once it passes, it will be bigger than 1991 reforms."

In this post, we simplify and explaining the ongoing Power reforms In summary, the Electricity Amendment Bill 2021 proposes following changes 👇:
⚡️ Delicensing of state monopoly - opening up to private players
⚡️ Consumers can choose their discoms (like you choose telecom operator)
⚡️ Smart meters to plug leakages
⚡️ Easier resolution of disputes
⚡️ Right to 24x7 electricity
⚡️ Rewarding consumers shifting to solar
Background
India's is the third largest consumer of electricity. But also one of the most inefficient (measured via Aggregate Technical & Commercial (AT&C) losses, i.e. electricity that is generated but does not reach intended customers.

AT&C for India stands at 22% vs global average of 8%. Peers such as China, Japan and US are at 4-6% AT&C losses indicating a clear need for efficiency to attain our manufacturing and export goals.

Currently, only 10% Indians are served by private discoms (Mumbai, Delhi, Ahmedabad and Kolkata). Interestingly, AT&C loss for Delhi has declined from 55% in 2002 to 9% in 2020 after power distribution was taken over by three private licensees. This makes a strong case for broader delicensing of discoms.
Power value and discoms
A simplistic overview of the power value chain:

Raw material (Coal, Fuel) ---> Generation ---> Transmission ---> Distribution ---> Consumption
In this chain, Distribution companies (or discoms) have been the weakest link for last three decades.
India has over 30 Discoms and they run deep losses each year (loss of ₹ 90,000 crore in FY 2021). Thus, the Discoms are unable to pay to Generation companies (such as NTPC, Power Grid, Jsw Energy) on time with outstanding dues of ₹ 67,917 cr at Mar-21. This in-turn impacts modernation and new capacity creation.
Hence discoms are the core focus of recent reforms.
Previously, State governments have been making big cash infusions into Discoms without any significant impact – a bottomless pit. As per P Uma Shankar (Former power secretary), & Vinay Chatterjee (Chairman-Feedback Infra), following are key problems have stayed in Discoms:

Electricity Amendment Bill, 2021
Old problems require new solutions. Budget 2021 proposed to allocate 3.05 lakh crores in the next 5 years for the revival of Discoms but this time, the focus is not just to infuse capital for a temporary bailout but on the actual transformation of the way discoms operate.
Delicensing of discom monopolies:

Till now there were state monopolies among discoms but the Electricity Amendment Bill 2021 has proposed to delicense this, i.e., more than one player can operate in each state. Also one can choose to use the service from the provider who they feel is more efficient, like your telecom service provider.

Most importantly, to solve the operational issues like revenue collection & billing, private players will be allowed to work with discoms:
Either as a franchisee (just helping state discoms in operations) or
License model (ownership of assets as well)
Further, a Public-private partnership (PPP) will help the industry to cut losses, focus on providing 24*7 electricity and invest in the development of renewables. As per Tata Power estimates, over 4.5 crore customers can be serviced under PPP model.

Private players like Tata Power (Licensee model – Delhi, Odisha) and Torrent Power (Franchisee model – Bhiwandi) are already winning bids. Adani Transmission is also looking for a license & will be participating in bids after implementation of smart-meter conversion.
Prepaid Smart Meters:
Another key reform is prepaid Smart Meters, which will help in plugging leakages and improve billing efficiency. It is widely seen as the first step towards privatizing the Power sector and by December 2023, all existing meters where power loss is greater than 15% have to be replaced with prepaid smart meters and across all government buildings.
As per Powerline research, Smart meters is helping the discoms to improve the collection efficiency by 95% & also leading to ~15% increase in average revenue.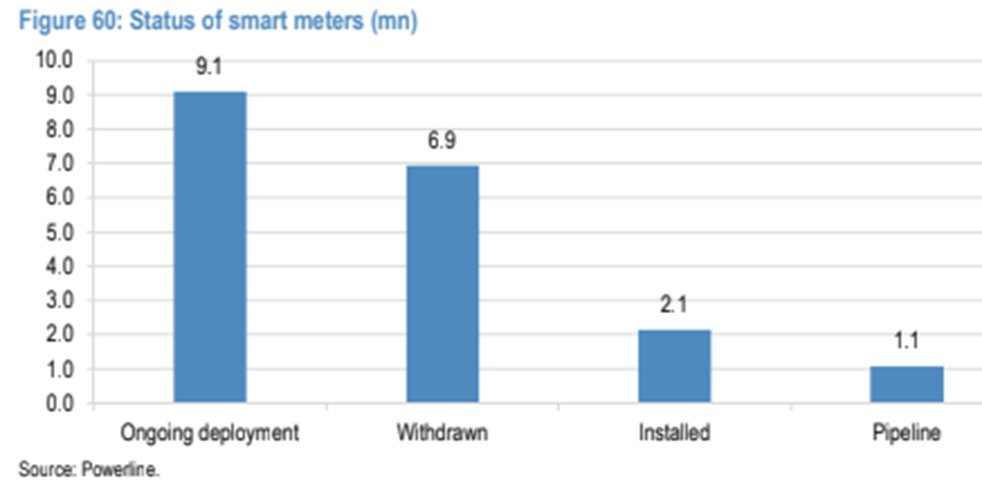 Some companies that make these smart meters are Genus Power, HPL Electric, Bajaj Electric and L&T.
Other initiatives:
Next issue is fixed long term Power Purchase Agreements. This has changed with companies now able to purchase power from the exchange such as IEX.
Other initiatives: Solar pumps for agriculture under PM Kusum Yojana, differential tariff based on demand & Direct benefit transfer of subsidies to beneficiaries.
It will take around a year to get in action and for private players to participate actively and help transform the industry structure.
And the private players are watching keenly. Extract from Tata Power earning call: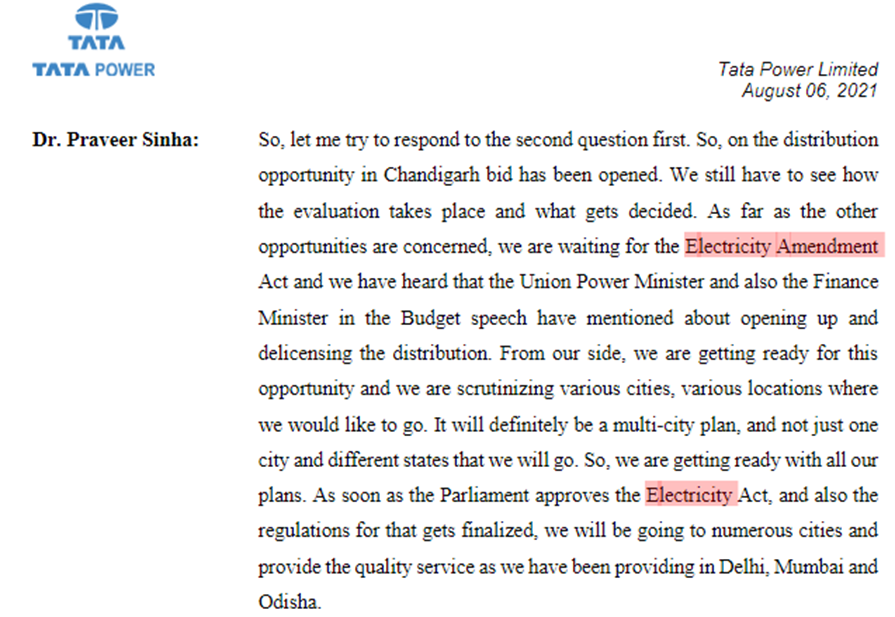 Summary and conclusion
India has one of the largest and most complex power sectors in the world. Last 2 decades saw gradual evolution – grid electricity, lesser power cuts, increase in renewables.
The ELectricity Amendment Bill was tabled in the monsoon session of the parliament and is awaiting majority approval of Rajya Sabha members before it becomes an Act. If the Bill is passed, the next decade can well be a decade of power renaissance.

Addendum: If you want to read more details, we suggest this Niti Ayog report on turning around the Power Distribution sector (some great insights here).
We have made a handy summary of Niti Ayog's recommendations for turning around Power discoms.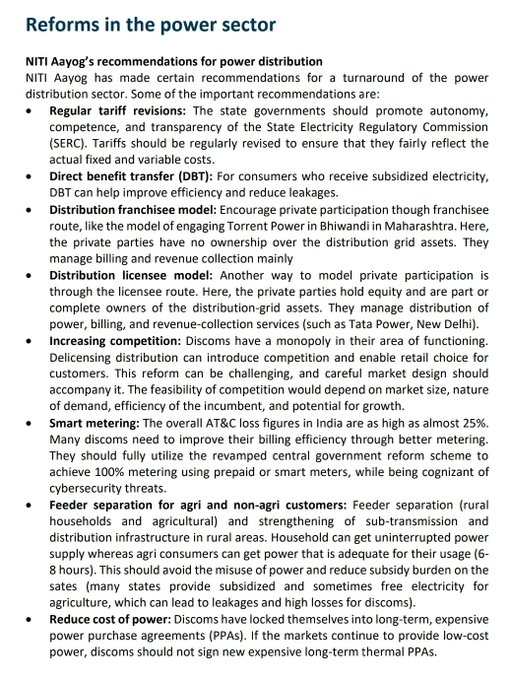 Thank you reading. If you want these insights directly delivered to your mail, please subscribe to our waitlist at multipie.co and follow @MultipieSocial. We send ONE weekly newsletter to over 6,500 investors summarizing key events that matter. Also we are launching soon! 🚀