One interesting development during the week was that Bajaj Finance got RBI approval to issue and operate "Semi-closed" Prepaid Payment Instruments (PPI) with perpetual validity. Here is an explainer note on what this means for Bajaj Finance and potential implications.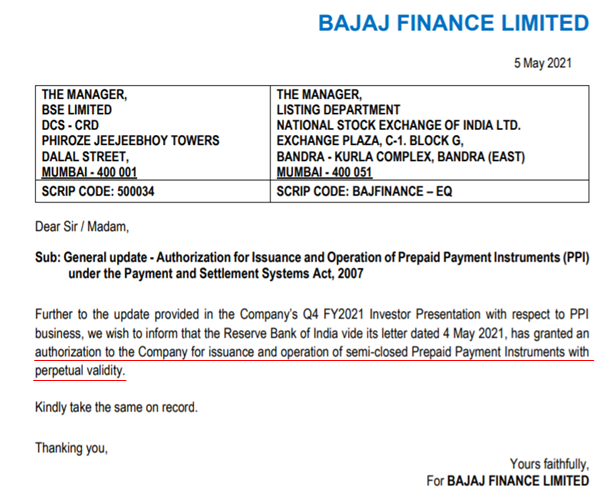 What are Prepaid Payment Instruments?

PPIs are instruments that facilitate purchase of goods & services or interpersonal money remittances, etc, against the value stored on such instruments. While PPIs aren't entirely new (remember Sodexo coupons, Edenred cards), it was formalized by RBI in 2017. Here is the full list of RBI authorized PPI license holders.

Okay, and how are these different from Credit Cards?

Prepaid payment instruments come with a pre-loaded value and in some cases a pre-defined purpose of payment (more on this later). PPIs makes it more convenient to get credit at the retail store, or to get an EMI without a physical credit cards.

What are the various PPI instruments?
RBI categorizes 3 types of PPI wallets – Closed, Semi-closed and Open.
Closed: Brand-specific gift card, wallets etc (Sodexo, Ola Money, etc). More prominent in 2000s.
Semi-closed: Mostly e-wallets issued by Fintechs and NBFCs.
Open: Issued by Banks (eg: Travel cards).
We explain the same via the image below: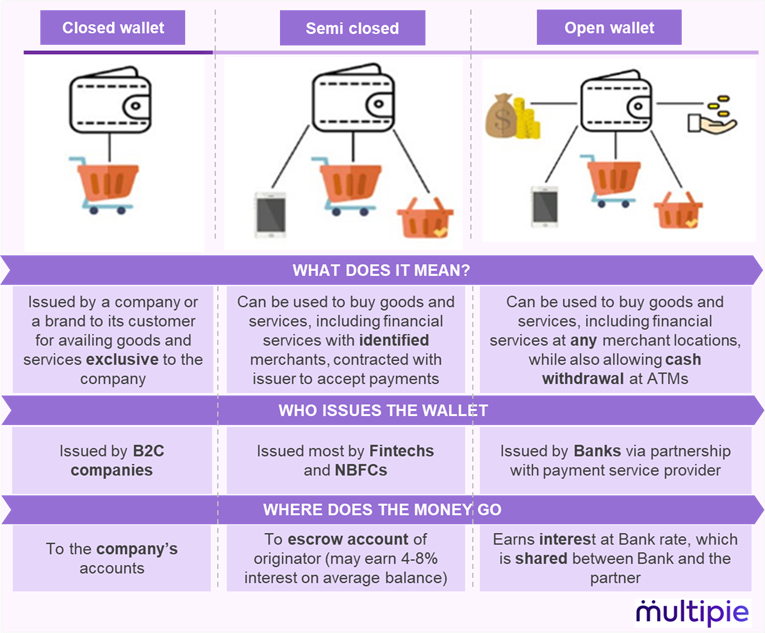 Let's understand the landscape of PPI players in India. As we can see in the image below, single use closed wallets were prominent earlier and have since given way to mostly semi-closed PPIs/ e-wallets.
Open wallets such M-pesa (ICICI Bank) and Payzapp (HDFC Bank) have seen limited success.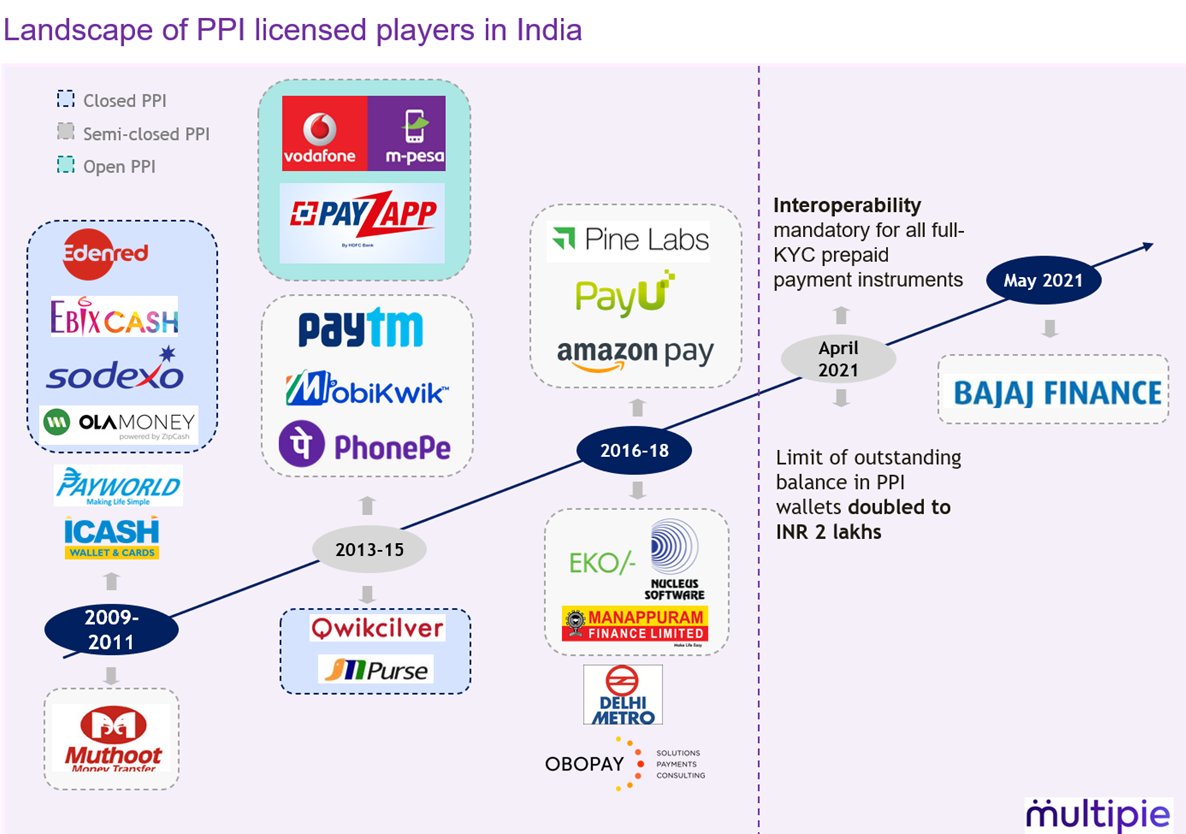 This brings us back to the topic of the day – Bajaj Finance (BF). What does the PPI license mean for them?

BF had indicated its' Vision 2.0 via "Bajaj Pay" in their Q3 FY2021 earnings call, an integrated payments solution of UPI, PPI & EMI Store (zero EMI). As per analysts, this should help Bajaj Finance in increasing cross-selling. The image below from the investor presentation provides some color:

Bajaj Finance's payment capabilities and growth imperatives

Over time, Bajaj has built a network of over 1 lakh merchants and ~5 crore customers. The two together create a base for a strong marketplace model, wherein payment capabilities was a missing link. While Bajaj Finance has grown at over 30% in last few years, it needs new legs to maintain similar growth trajectory, which is a key reason for its valuation premium. See recent customer growth metrics via a Business Standard article: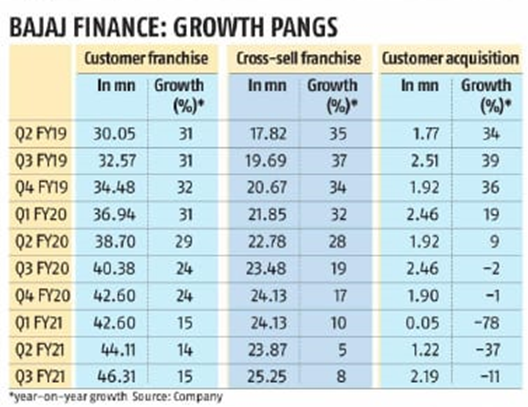 How big can the semi-closed PPI license approval be for Bajaj Finance?

As per a PwC publication, revenue pool of PPIs was estimated to be at INR 253 BN in FY2021 and projected to grow to INR 497 BN in FY2025P, growing at a CAGR of 18.4%. With Bajaj Pay, the company plans to create a robust ecosystem to tap into this large opportunity.

While semi-closed PPI e-wallets have their limitations, there have been two key recent regulatory changes that have significantly expanded their playing field:
1. Mandatory interoperability for full KYC PPIs
2. Increased limit from ₹1 Lakh to ₹ 2 lakhs.

With these changes along with allowing Video KYC, it is expected that e-wallets would see a comeback and may soon function close to a Bank account.
More details in this article on The Mint: https://t.co/lqIPrI4Ape?amp=1

Conclusion:
While market reaction to this has been neutral, credit card expert Sandeep Srinivasa, founder of RedCarpet Up and a Payments and Credit cards expert had an optimistic take on this: "NBFC O/D line + prepaid + 2lakh limit + cash withdrawal + mandatory UPI linkage could be killer."

We will continue to monitor developments here. Let us know what you think.

Note: This is not an investment advice on BF.