Hello folks, this week's newsletter is called 'The Happy-Newsletter' – media is again back at scare-mongering, so we'll focus on the positive side of things. Let's start off the week on a good note 😀
1. Market snapshot
Markets panicked on Friday after the discovery of a new rapidly mutating variant B.1.1.529, now called Omicron. Not surprisingly, messages of another crash, NIFTY 12000 started doing the rounds. As I type, the all the indices have recovered to green after a morning jerk on the backdrop comforting statements coming in from South Africa.
Friday's panic selling was not India specific, but global, so hopefully this week should establish the trend. Let's not jump the gun 😅
Over the last month, financials and Energy/ Oil&Gas have seen the highest correction of ~10% (I am optimistic on Financials). Pharma & Healthcare, the under-performer of the last year, made a comeback on Friday.

Indian indices were down 3.3% for the week, due to heavy selling by FIIs. Note that FIIs aren't really exiting India, but churning out of existing NIFTY stocks and investing in IPOs – they have invested to the tune of ~27,000 crores here! Check data shared by Deepak Shenoy. So, if you are wondering why the high valuation Internet stocks held strong when markets corrected, this might explain it 🙂
Small and mid-cap have been relatively resilient in the fall, again indicating that we are seeing a churn instead of a sell-off.
2. Happy readings of the week
2.1. Coming decade of Capex Mahotsav – Kumar Mangalam Birla (link)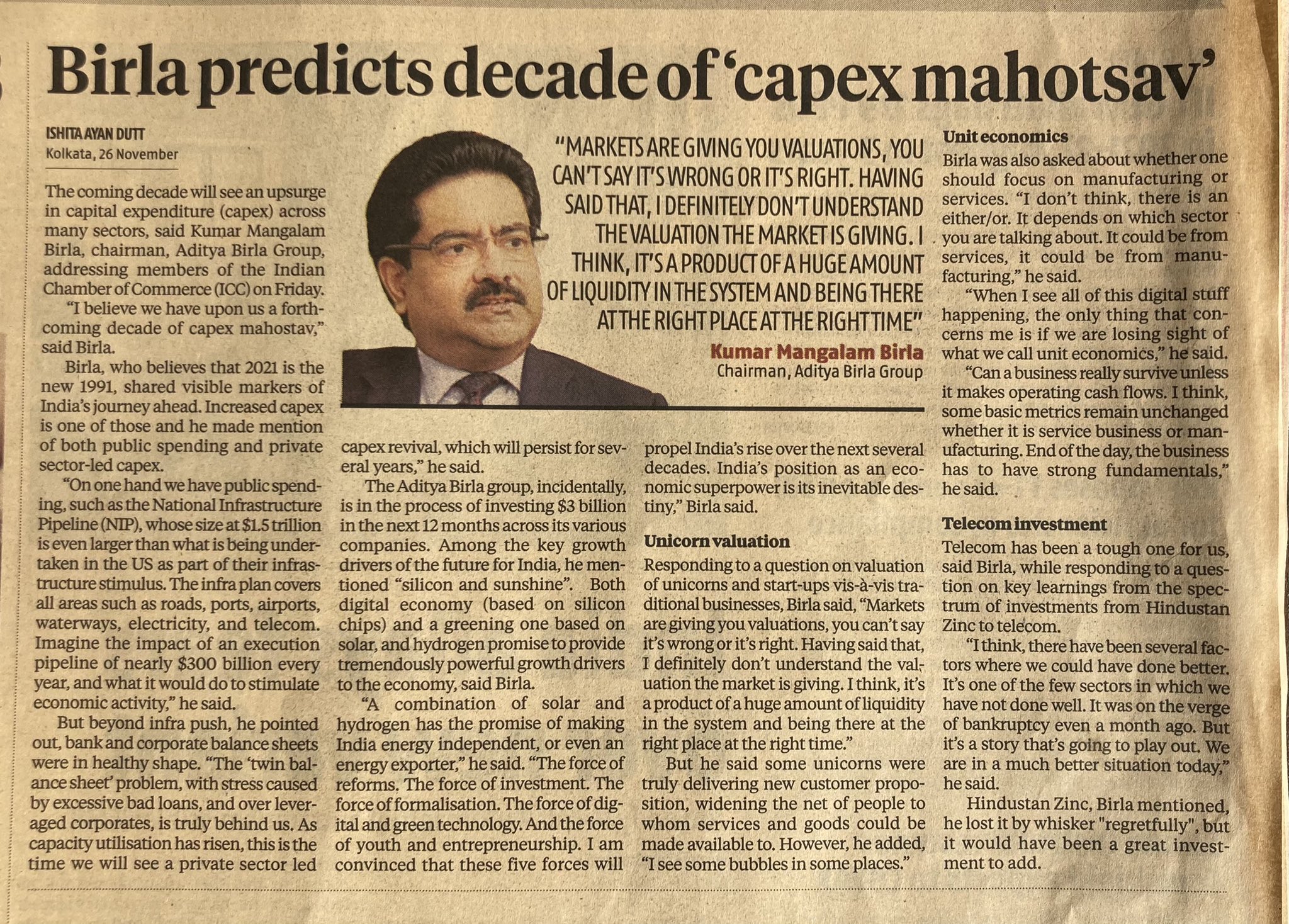 After almost 10 years of lull, India will see big capex in almost all the sectors. Some highlights from the presentation by K.M. Birla:
The National Infrastructure Pipeline, whose size at 1.5 trillion dollars is even larger than what is being undertaken in the United States as part of their infrastructure stimulus
Two mega trends – deepening of the digital economy and second is the transition to an increasingly green economy.
PLI scheme itself can cause over 3 lakh crore of combined Capex in 5 yrs – with high revenue multiplier, it may well be the biggest manufacturing reform in decades.
2.2 Ohmium establishes India as global hub for hydrogen, ships first Hydrogen Electrolyzer to US (link)
Ohmium International, through its Indian subsidiary (first Hydrogen giga-factory in India, Bangalore), has shipped its first electrolyzer from India to the US – ensuring India's baby steps in the domain of hydrogen as a fuel economy! Linde India provides hydrogen services to this project.

Two good reads on India's Hydrogen fuel dreams here and here
2.3 Real Estate industry to grow at over 75% YoY for next 3 yrs: Infomerics Report
After being hit hard by Covid-19 due to scarcity of labour and low budget spending, India's real estate industry is now gathering pace and is on the course to healthy recovery – 75% yoy as per the report!

At the same time, I was listening to this good talk by Amit Jeswani. He drove an important point – "If there is one industry which creates the highest profit pools, that is Real Estate. Look at the history of growth and you won't find one that is not coinciding with a Real estate boom. Demand revival in real estate means 200 other ancillary sectors do well – Cement, Steel, Tiles, Pipes, Electronics and the likes."
If you can take out an hour for learning, I strongly recommend listening to this one.
2.4 Some important development in Indian Banking last week
There were two other noteworthy developments in banking this week. A review of private bank ownership and corporate structures has been underway at the RBI for about a year. The most contentious issue on the table was whether to open the door to corporate entry into banking, as suggested by an internal working group. The RBI came with recommendations:
– No entry for corporates into banking
– Higher promoter stake till 26% permitted – gives comfort to Kotak and IndusInd Bank
– Closer watch on pledging of promoter shares.
Overall, RBI stuck to its conservative DNA, which is good for Tier 1 Banks.
2.5 Crude OIl is 10% cheaper – good news for India's trade balance?
Data suggests every Dollar fall in Crude reduces India annual import bill by 1.5 bn USD. With crude prices softening in the last few days, it is expected to provide comfort on the raw material cost. The big caveat is demand should not get affected due to the new variant.
3.

Highlights of weekly results
4. Visuals of the week

:

4.1 The three phases of India's real per Capital GDP
Here India's real per capita GDP shows three distinct chapters with steadily improving trajectory. Most GDP growth estimates look at linear growth path, but this graph might help one to think in decades and the non-linear multiplier effect. Overall GDP trend/potential growth rate is higher than many think looking backward.
4.2 Green hydrogen's cost to expected to be at lower levels than conventional hydrogen
"Hydrogen" is the new buzzword in energy circles. However, current energy sources to generate hydrogen via electrolysis are fossil fuels (hence called "Grey hydrogen"). This needs to replaced with solar/wind as source of energy (Green hydrogen). Current costs to generate 1 kg of hydrogen for Green hydrogen is ~5x of 'grey hydrogen'. The chart suggests that cost of Green Hydrogen are expected to be equal to Grey hydrogen by the end of this decade and cheaper thereon. Top Indian companies like Reliance, Adani, IOC and also NTPC, Gail, JSW energy have announced big capex towards building green hydrogen capacity. This will not only fulfill our National hydrogen mission but also make India independent in terms of energy as we import ~12 lakh crs worth of energy currently.
5. Good reads:
5.1 An insightful write up by Marcellus on "Why India beats China hollow on consistent compounding" and we recommend you to read it.
5.2. An excellent read- Howard Marks's latest memo where he many different interesting aspects like how evolving technology has changed the way world operates etc.
5.3 An extensive and interesting article by Ark Invest on why companies associated with technology innovation are likely to grow exponentially.
6. Announcing winners of Multipie Stock Pitch competition:
We held a stock pitch competition of Multipie (see all entries here) and we have our top three winners.
Congratulations Parvez Baria (pitch on Satia Industries), Siddhesh (pitch on KPR Mill) and Siddhanth Patel (pitch on Affle Limited)
That's all for this week. Please share with your peers if you found this helpful and subscribe to start receiving the weekly digest in your mail! Happy weekend!